Microservices, Docker and Basic Kubernetes
CloudOps' flagship workshop covers architecture principles of microservices, then gets in to the mechanics of container tooling – now a key model for application development.
Our workshops are Linux-based. If you are interested in Docker and Kubernetes training on Windows, please let us know here.
This workshop is available on Azure, GCP and AWS.
Duration: 1, 2 or 3 days
One day Docker: $1000/attendee (minimum 6 attendees)
Two day Kubernetes: $2500/attendee (minimum 6 attendees)
Three day bundle: $3000/attendee (minimum 6 attendees)
Prerequisites:
Experience using Linux CLI and a general understanding of virtualization and container technology
Technical Requirements:
Mac, Linux OS or Windows laptop with SSH client (putty, cygwin), web browser supporting HTML5
Day 1
Introduction to Microservices
Docker Basics
Advanced Docker
Managing Docker
Docker Tooling
Docker Ecosystem
Day 2 & 3
Kubernetes Ecosystem, Kubernetes 101
Kubernetes Concepts and features
Networking
Storage and Stateful Sets
Multi-tenancy
Packaging Applications with Helm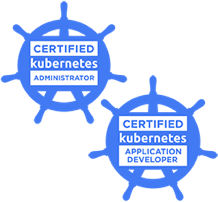 CKA/CKAD Exams
Our three day bundle workshop is training for the CKA/CKAD exams, in addition to a one-day prep session per exam. Contact us for more details.