DevOpsDays Montreal 2019
19-11-2019 / CloudOps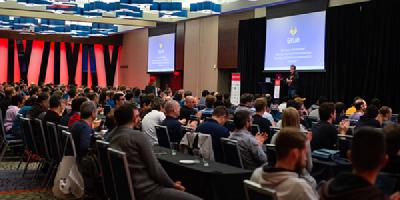 The second edition of DevOpsDays Montreal took place on November 5 and 6. CloudOps was excited to be at this event which brought together community members from across Eastern Canada in celebration of all things DevOps. The two days were jam-packed with talks in both English and French, open spaces, and workshops.
The first day started with a talk by Richard Fontana called "Open Source: Everything's fine," an interesting look into the legalities of open source software. Christian Couder then presented "Qualité et agilité avec Git," where he spoke about how Git has enabled GitHub and GitLab to continue serving open source communities. Catherine Proulx presented "DevOps for Pyromaniac Kittens (a.k.a. researchers)" and focused on the ongoing implementation of a DevOps process in a real research lab, from a human perspective. Chuck Mountz Jr presented "Creating a Personal North Star: Taking ownership of your career path." Martin Deslongchamps then presented "Étude de cas: Agile et DevOps chez Croesus." These talks were punctuated by lunch and coffee breaks.
The afternoon continued with a series of open space workshops, where attendees could meet and discuss all kinds of specialized topics, and then guided workshops. James, or purplidea, led a workshop on mgmt config, and Gareth Greenway led a workshop called "Dr SaltStack: Replaced all the Crons." The first day concluded with a drinks reception.
Day 2 of DevOpsDays Montreal began with a keynote by Steve Pereira called "Time for What's Next," which explained how value stream mapping can improve team processes. Yannick Brosseau presented "Your Hardware is Still Mostly Software: Handling firmwares in your fleet," a reminder that embedded software parts often require more attention than they were given. A series of Ignite talks, where speakers had 5 minutes, were followed by a talk by Philippe Lafoucrière called "Fermer la boucle DevSecOps," which showed how security processes should be integrated into development cycles. Charles Abondo had put some of those ideas into practice and gave a talk called "Technology in Motion: The DevSecOps journey at CN." After more open spaces, the learning concluded with two more workshops. Christian Couder led a workshop on advanced Git tips and Steve Pereira on flow engineering. The second day was packed full as well.
It was great seeing how much DevOpsDays and Eastern Canada's communities have grown since last year's DevOpsDays Montreal, nearly doubling attendance at this year's conference. We can't wait for next year!
To stay up to date with community events in Eastern Canada, sign up for the Cloud Native Newsletter, check out our DevOps Montreal meetups or join our DevOps Quebec Slack channel.
CloudOps was happy to be a gold sponsor of this year's event, and we can't wait to see our community again at the next series of Eastern Canada's Kubernetes and Cloud Native meetups.
If you missed DevOpsDays Montreal but would still like to delve into containerization, sign up for our hands-on, 3-day Docker and Kubernetes workshops. You'll learn the basics of app modernization and be launched on the path towards DevOps adoption.
To view the playlist of this year's DevOpsDays, click here.